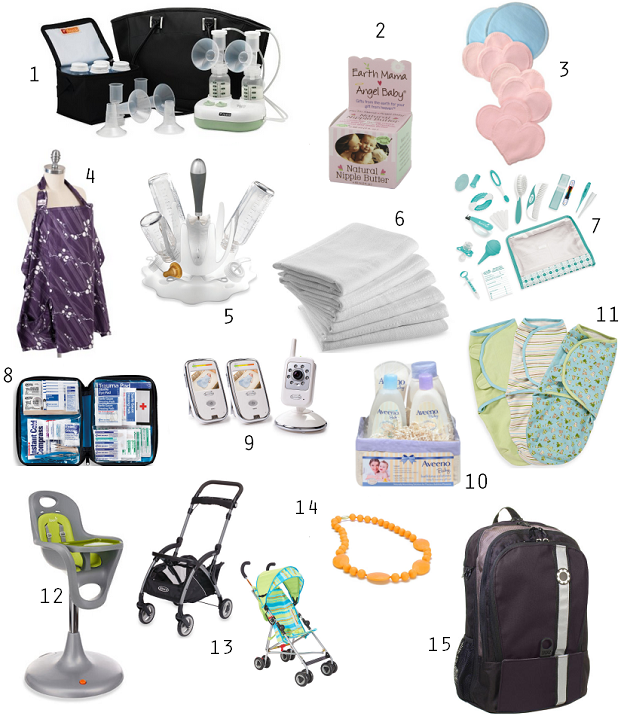 Every time I think we've gathered everything we need for Baby Loudmouth, I realize I'm wrong. Let's face it, for the first couple weeks we'll get along just fine with boobs and diapers, but eventually the kid and I will need a little more than that to survive. Here are 14 more items that are still on my list (and believe it or not, I'm probably forgetting something). It's amazing to me how close we've gotten to his big arrival.
1) Breast pump.
I've heard that
Medela
makes the best and it's usually the one that insurances cover, but this one by
Ameda
costs $100 less and I've read equally good things. Bonnie is also giving one away at her blog
here
and I've entered like 10 times, of course.
2) Titty cream.
Apparently, the ta-tas get sore and therefore this stuff is like liquid gold. Many brands need to be wiped off before feeding, but
Earth Mama Angel Baby
's Natural Nipple Butter is safe for the consumption of infants. The combination of health and convenience makes my heart sing.
3) Nursing pads.
My nipples are like leaky faucets and I'm sure it'll only get worse in the coming months, so before my bras get stained beyond repair I'd like to start using these washable pads by
Bamboobies
.
4) Hooter hider.
You guys know I'm proud of my gargantuan breasts, but just in case the world doesn't want to see them, these
Bebe au Lait
nursing covers are cute and can probably double as an apron.
5) Drying rack.
Pumping requires bottles and bottles require washing, so why not using a drying rack like this one by
Skip Hop
? Possibly not "essential" but handy nonetheless.
6) Burp cloths.
What goes in must come out, so I'm preparing myself for any and all body fluids.
Dundee
makes the cheapest spit-up soakers I've seen -- who cares if they're plain white? Vomit isn't cute anyway, so I don't need anything fancy. These can also be used as cloth diapers, if you're not lazy like me.
7) Hygiene kit.
Babies need brushes too, and let's not forget about the good ol' snot-sucker. A thermometer would also be nice seeing as I haven't owned one since I was a kid myself. Usually I can tell when I have a fever, but feeling my child's head with my hand doesn't seem responsible. This alone makes
Summer Infant
's Complete Nursery Care Kit crucial.
8) First Aid kit.
Again, this is something important that I should already have, but ya know. Oops. I found a
First Aid Only™
kit with 131 pieces which sounds like enough to bring someone back from the dead.
9) Baby monitor.
Now for the fun stuff!
Summer Infant
's Dual Coverage Digital Color Video Monitor Set comes with two portable screens that B and I can each tote around. I'll probably be with Baby L 24/7 anyway but just in case I have to take a shit, I'll be able to watch him do nothing.
10) Baby wash and shampoo.
Move over, Johnson & Johnson -- nowadays,
Aveeno
is where it's at. It's even more attractive when wrapped in a pretty, affordable gift basket. I'm sold.
11) Swaddling clothes.
Just like they did with Jesus in the manger, it's recommended that we swaddle our babes. Not only do they stay nice and cozy, but the practice can also prevent SIDS.
Summer Infant
's SwaddleMe wraps make it easy.
12) High chair.
He won't be eating solid food for awhile, but might as well prepare with the
Boon Flair
Pedestal High Chair. It's so modern-looking and funky, right?
13) Stroller.
Our car seat is out of the box, but we don't yet have the
Graco
SnugRider Elite Stroller that it snaps into. I'd also like a more lightweight stroller like
this
one that we can grab in a hurry.
14) Teething necklace.
This
Chewbeads
Perry Necklace is genius, and comes in a variety of stylish colors. I won't have to worry about my jewelry getting snapped off or leaving the bling at home.
15) Daddy diaper bag.
Last but not least, let's not forget about Dad. I can totally see B rockin' the
DadGear
Backpack Diaper Bag. Did you think I was gonna do it all myself? He's def gonna be a DILF.