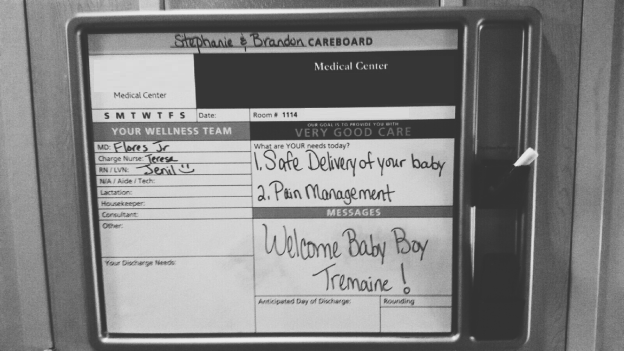 Brandon is one of those people who everyone wants to know. Wherever he goes, he receives immediate attention from both male and female parties. When we were first dating, whenever we'd go out, completely heterosexual men would begin talking to him and buying him drinks. He just has this aura, this energy, this thing about him that lights up every room he walks into.
I felt it, too; before I even spoke with him, I heard his laugh and could tell that this was a man of peace and love and joy, a man who wanted to be friends with everyone and influence people and change the world. That's how I knew I would fall for him, because we were alike in all the right ways but so perfectly opposite, and that's how I knew he would be a good father, my partner-in-crime in parenthood and life.
Our son,
Trey
, was born a week ago on September 15 at 7:19pm. He weighed 7 lbs 13 oz and measured 21 inches long. Here's how he came into this world.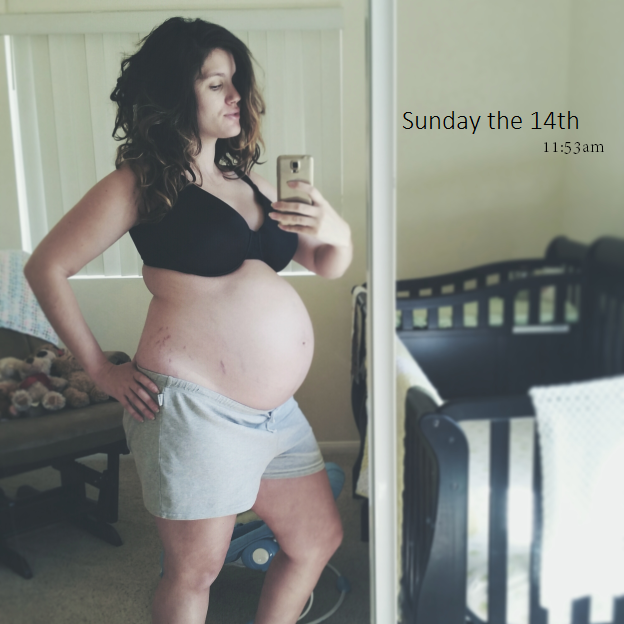 At my
37 week
appointment, my doctor told me that I could choose to be induced at 39 weeks. You may recall that I was diagnosed with hydronephrosis at
34 weeks
and was in constant pain for most of my third trimester. Not only that, but I was at risk for kidney infections, stones, or even rupture. The only cure for this condition was to have the baby.
In my mind I was thinking "the sooner, the better" but I was also torn. I didn't want to go against God's timing and after reading
this
blog post from a mother who had her baby at 42 weeks, I felt guilty. I wasn't sure what to do so I brought Brandon to my 38 week appointment to discuss it further with my doctor and make a decision.
Ultimately, I knew I wanted to do what was best for my body and the doctor assured me that our son would be fully developed and healthy at that point. Brandon reminded me that God wouldn't love me any less if I decided to have the baby a week early. We decided to go for it and as soon as the date was set, I cried with relief. I knew I had done the right thing.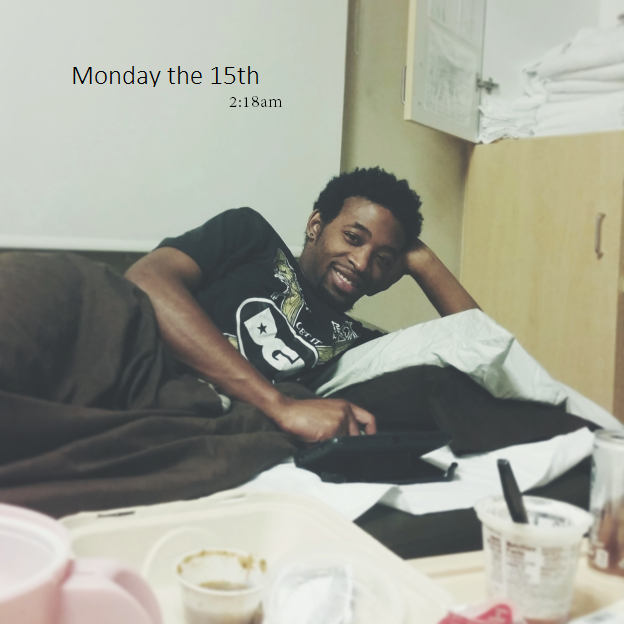 Our induction was scheduled for midnight on September 15th, a week before my original due date, which was today. (I had seen four different doctors over the course of my pregnancy due to insurance changes, and the date had changed from the 22nd to 20th and back again -- not that two days really matters.) We were told to be there at 11:30 and they were really busy, so there was a lot of waiting around. Seriously, the hallway was full of women in active labor and all of the rooms were full. After two hours, someone who seemed like the head nurse quietly pulled us away and led us to what she said was the best room they had, and she was probably right. It was tucked into a cozy corner and I loved the privacy.
While our funny and awesome night nurse, Jenil, asked questions and got my information, Brandon headed down to the cafeteria to get himself some grub. He had been even more nervous than me on the ride over, but as soon as he heard there was food his spirits lifted. He came back with a plethora of goodies that I, of course, could not partake in. Once you're at the hospital, you can't eat or drink anything until labor's over. I was already hungry and somehow the ice chips I was given seemed to hold me over.
Jenil checked my cervix and it was still closed. To allow it to open up and get contractions started, I needed to be given a little pill... not by mouth, but up my vagina. To be honest, this was the most uncomfortable part of my day. The pill was small, but they really get up there. I was instructed to stay laying down for two hours while the medicine was absorbed, and I should start to feel contractions in an hour. After the two hours, I was given another pill.
During this time, Brandon slept and I tried to. I was much too excited and every time I felt myself drifting off, I would hear a noise and be reminded of where I was and what was happening. The contractions felt like period cramps at first and were pretty manageable, but about six hours in it got to the point where I needed to wake Brandon up and have him hold my hand and help me breathe.
Then my doctor arrived and checked my cervix to see how much I had dilated. Even though my contractions were painful and two minutes apart, I had only dilated one centimeter. I was disappointed but assured that this was normal for an induction and it would be a long process. Around this time my day nurse, Sandra, arrived. She told me that they would be starting the pitocin soon to speed up the labor and I knew from what I'd read that my contractions would become even longer and stronger. I asked her if it was too early to get an epidural and she said no.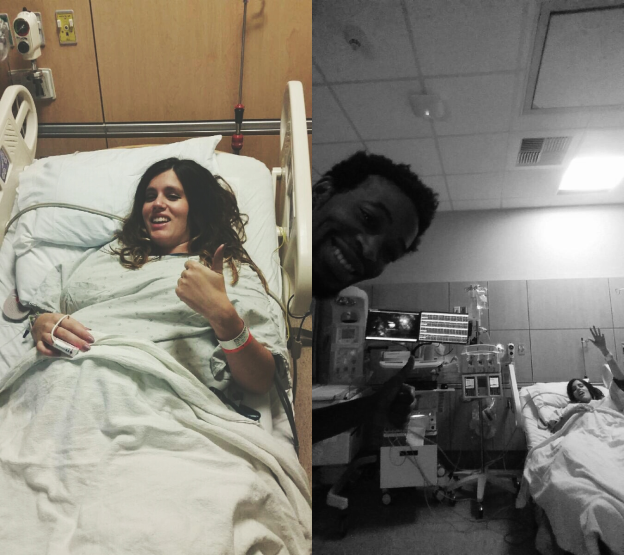 The anesthesiologist was just as gentle and informative as my doctor and nurses. He explained the process to me and then had to send Brandon out of the room because apparently they have had too many dads pass out while watching. I sat at the edge of the bed and clutched a pillow while an area of my back was numbed. This was a little painful and I couldn't help but whimper while Sandra placed a comforting hand on my knee. Then the worst was over and when the anesthesiologist inserted the real thing, I couldn't feel it. Within the next half hour, everything below my ribs tingled and went numb, and I was on cloud nine. Brandon was energized from his nap and for awhile we had fun taking pictures, listening to motown hits and texting our families.
Unfortunately, I soon realized that my left wasn't nearly as numb as my right and eventually I could feel the contractions on that side. At this point I was 6 centimeters dilated and the pain was fierce. I almost broke Brandon's hand clutching it as I breathed and tried to stay strong. Sandra came in and helped position me so that I was laying on my left side and gravity could pull the medicine down. She also showed me a button I could press to release extra medicine. We noticed though that whenever I laid on my left side, the baby's heart rate would bounce up and down. It also fluctuated whenever I got a contraction. Things weren't looking good, but we wanted to wait and see if there would be any changes. The doctor broke my water and inserted a monitor to more accurately measure the heart rate.
I was forced to lay on my right side and fight through the contractions. I kept pressing the magic button, but the medicine would kick in and then eventually fade away from the left side. Brandon's parents arrived and he played funny videos for us on his tablet which helped distract me. I also kept rubbing the fluorite worry stone that my sister had sent, and continued to text my mom.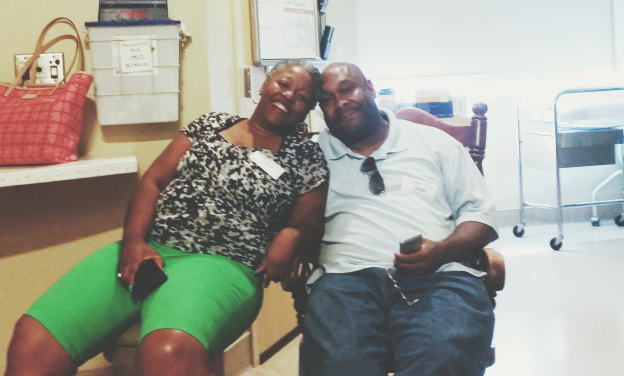 My doctor came back in and talked to us about the possibility of a c-section. The baby's heart rate was continuing to drop and then shoot up, from 130 to 200 and back down to 150. We were told that he probably wouldn't be able to handle the stress of a vaginal birth and to continue down that road would result in danger. I knew that Baby Loudmouth's life was at stake and wanted to do what was best for him.
Brandon was resistant because a c-section was obviously not in our plan and he knew it was more of a risk for me. However, I knew that a vaginal birth was more of a risk for our son. I was willing to do anything to keep him safe. The weird thing is that a few months ago, I told my mom I felt like I was going to have him early, and that it would be a c-section. Call it mother's intuition, but maybe because I had predicted it, I was calm about the situation. I knew that God would pull us through and everything would be okay.
I was prepped for surgery and wheeled to the OR where about 25 people saw me naked. A blue sheet was placed in front of my face so that I wouldn't be able to see what was going on, but I still kept my eyes closed the entire time. The anesthesiologist pumped more drugs into my system and I began to get nervous. I kept telling him, "I'm so scared I'm going to feel it! Please give me enough so that I just pass out!" Brandon wasn't in the room yet, so I rubbed the smooth surface of my stone for comfort and prayed.
The doctors pinched different parts of my stomach to see if I could feel anything until I was given enough medicine so that I was completely numb again. Brandon was led into the room in the medical gear he was given and even though he was allowed to watch the surgery, he sat on my side of the curtain and gripped my hand. He didn't want to see me all ripped apart, and I don't blame him.
The procedure didn't take longer than 20 minutes and though it felt weird, I felt no pain. Then I was told there would be some pressure and the baby was coming. They pulled him out of me and as soon as I heard him cry, I started crying too. Brandon cut the cord and watched as they cleaned him up. One of the nurses brought our baby over to me as I still laid there, getting stitched up. She held him in front of my face and I kissed one of his sweet cheeks. He had stopped crying and was completely calm with his eyes closed. Then Brandon and the baby were gone and I was told I'd see them again in the triage area.
I fell asleep and when I woke up they were tearing down the curtains and wheeling me over to see my baby. Even with all of the stress and excitement, the day was not nearly as scary as I thought it would be and I would relive it over again in a heartbeat.
I was shaking pretty hard from the meds, but I was assured that it wouldn't hurt our son and before I knew it he was placed in my arms. I can't remember exactly what I said to him but it was something along the lines of "I love you." It was truly the best moment of my life. I never wanted to be a mother and now I can't imagine my life any other way. It's the most beautiful feeling and I've never been so happy.
The next few days in the hospital were interesting and I could definitely write a whole series of posts about it. I'm so glad to be home now with my sweet little family. I want to spend every moment with Trey.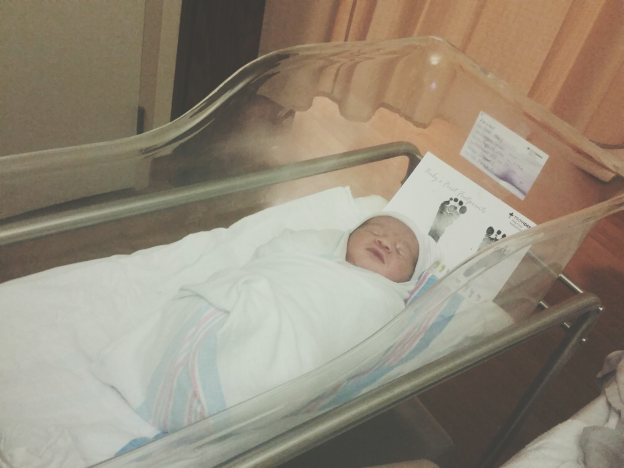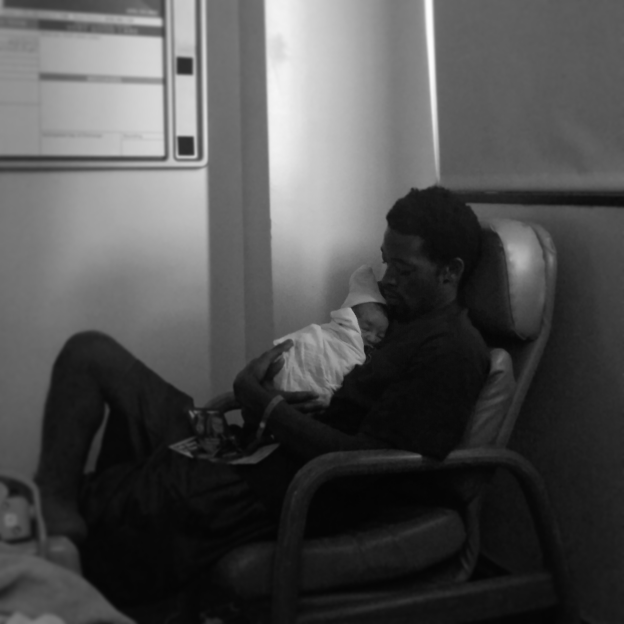 My doctor came to the recovery room to check on us about 24 hours after the birth, once I was no longer high and could pay attention. He informed us of three things that they'd discovered during my c-section: the baby had pooped inside of me (which is really dangerous and could result in poisoning due to the meconium), I had been on the brink of an infection from being in labor for so long, and I have a misshapen uterus -- it's bigger on the right side, which is why my belly had been lopsided, why I only had hydronephrosis in my right kidney, and why the baby's heart rate had been fluctuating. There was no way he could have maneuvered down into position to be born naturally. My body was not made for vaginal birth, but I know that does not make me any less of a woman or mother. I also know that it was a miracle that we came out alive and healthy at the end of the day.
Jacquelyn also came to visit us and bring balloons and hold a baby for the first time. Too sweet.
After being there for most of the week, we left on Thursday and brought our little man home in a cute outfit, naturally. Somehow he slept through the entire bumpy ride. We have found that he can sleep through anything.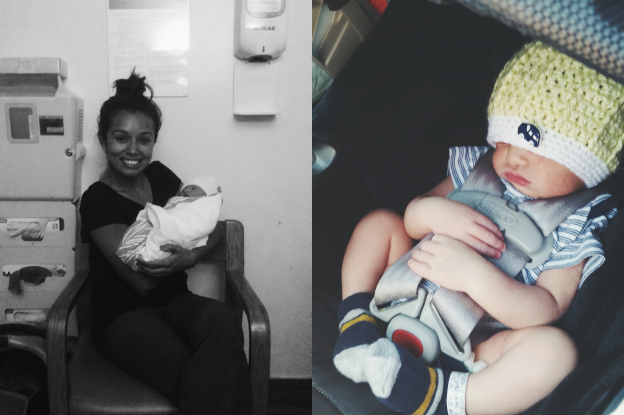 That night I kissed and cuddled him in my bed and of course, took more pictures. I have 172 so far. You might say I'm obsessed or smitten or absolutely in love.
Welcome to the world, Baby Loudmouth. We've been waiting for you.