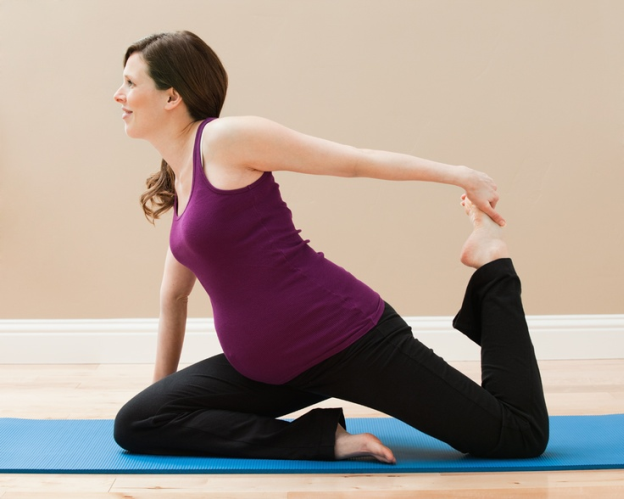 The NHS actively encourages mothers-to-be to exercise; there are loads of health and mood-boosting benefits and exercising may even help prevent complications like pre-eclampsia. It'll also help you get into shape for labour and birth (and anything that helps with that gets a gold star in our book!).
If you weren't very active pre-pregnancy, it's not advisable to start strenuous exercise during it – stick to gentler activities like walking and swimming.
Aquanatal Classes
With a holistic approach to exercise, aquanatal classes are led by qualified teachers who guide the class through movements and stretches in the pool. It's a great stress-buster and perfect for pregnant women from the 14-16 week mark.
Many mothers believe that swimming while pregnant benefits the baby before they are born and helps them adjust to water after birth (something we'll cover later). The
UK Aquanatal Register
can help you find your local class.
Stationary Cycling
Cycling can help manage weight and prepare muscles for labour and birth, but taking a bike on the roads comes with certain risks. If you didn't
cycle regularly before you got pregnant
, play it safe and cycle at home or the gym. Cycling is less impactful upon the lower joints such as ankles, which is beneficial throughout pregnancy as the extremities are already exposed to additional pressure.
Pregnancy Yoga
We all know that yoga is great for increased flexibility, but as it also places focus on breathing and body alignment, it has long-lasting benefits beyond the weekly class. Classes generally run from week 14 onwards.
Yoga has the added benefit of being a great exercise to do from home – you can find YouTube tutorials (
like this series
) that are tailored to pregnant mums-to-be.
Regular Walking
This could be as simple as walking home from work a couple of times a week or walking to a friend's house for a cup of tea. Try to get at least 30 minutes of moderate exercise most days. Even everyday tasks such as walking to the local shop or housework can count towards your daily exercise goal.
…and After Baby is Born?
If you worked out throughout your pregnancy and had a straightforward, natural birth, you should be able to start gentle exercise pretty soon after the birth. Do ask your GP for advice if you're not sure.
Swimming together is a brilliant bonding activity, though you'll have to wait until you've had your postnatal check and have been seven days without any postnatal bleeding. You can take babies swimming from an early age; if you're worried about them feeling nervous in the pool, why not get them used to it using a paddling pool – All Round Fun has a good selection
here
.
Gentle walking with a pushchair is another great way to start introducing exercise back into your routine. There are also dedicated postnatal exercise classes, which have the added benefit of helping you meet other new mums.
Above all, remember to listen to your body. This is supposed to be fun as well as beneficial, after all!
*Photo found
here
. This post was published in association with All Round Fun.