The ever-popular "what's in my bag" posts have been floating around the web for years now (I've posted several
here
). But today, I want to tell you what I brought in my bag when I went to the hospital and gave
birth
last month. To be honest,
Brandon
and I took WAY too much stuff (the title of this should really read "bags") and I want to make sure you don't make the same mistake. There is already a lot to think about and process on that big day, so the last thing you need is to stress about lugging your crap around!
The main thing to remember is this: the hospital provides a LOT of things for you, and anything that you forget can be picked up and delivered by a friend or family member. If all else fails, your partner can run home and grab it once the excitement is over. Towards the end of my
pregnancy
, every little thing seemed like A Really Big Deal. Try not to have this mentality and just have fun! You're meeting your new BFF!
Here are the items that I loved having with me:
Insurance card and medical records //
Obviously, this is a necessity. Most hospitals have a pre-admission form you can fill out in advance to speed up the paperwork part once you arrive, but you'll still need to show them these items. Your doctor should give you your records within the last few weeks of pregnancy.
Focal point for labor //
My Lamaze instructor suggested we bring something -- a photo, a rosary, a good luck charm -- to focus on through contractions.
Liz
sent me a fluorite worry stone, and I'm not sure where she got it, but you can purchase your own on Etsy
here
. Rubbing the smooth surface helped me relax.
Electronics and chargers //
Brandon and I each brought a phone and tablet. B used his tablet to play music and games, and I used mine for
Pinterest
and blog-reading. We wanted to reserve our phones for updating friends and family, especially since my parents and siblings still live across the country.
Pillows and blankets for dad //
The bedding I was provided worked just fine, but poor Brandon was forced to sleep on an uncomfortable fold-out chair in the recovery room. Fortunately, we'd brought along pillows and blankets from home, so he was (somewhat) cozy during our four day stay.
Spare change for vending machines //
I wasn't allowed to eat anything but ice chips for almost 48 hours (during labor, then after c-section) but when the cafeteria was closed and B was hungry at 3am, we were glad to have some quarters. You could also be even smarter than us and pack snacks.
Hair and makeup products //
Even though I knew I'd be sweaty and crying during and after labor, I'm still pleased that I made myself look presentable. If a room full of people is going to see my haphazardly shaven vagina, my face better look good. Plus, pictures!
Going home outfit for mom, dad and baby //
I hadn't showered the entire time I was in the hospital (being hooked up to an IV and catheter isn't conducive to that) but still wanted to dress up for the celebratory ride home. So, along with my cosmetic bag, I packed
this
dress and a matching nursing bra. You might want to get all fashion bloggy and create coordinating outfits, but I chose
this
little number for Trey -- specifically so he could wear the hat. Or, you could just wear what you showed up in. Whatevs.
Car seat //
I don't think you're even allowed to leave the hospital without one.
Here
's the car seat that we have if you're still debating what to get. I know there are a ton of options out there and I remember being really overwhelmed. We chose ours based on the reviews and we love it. Trey thinks it's so comfy that he passes out as soon as we strap him in. It's super lightweight and easy to use, and it snaps into
this
stroller.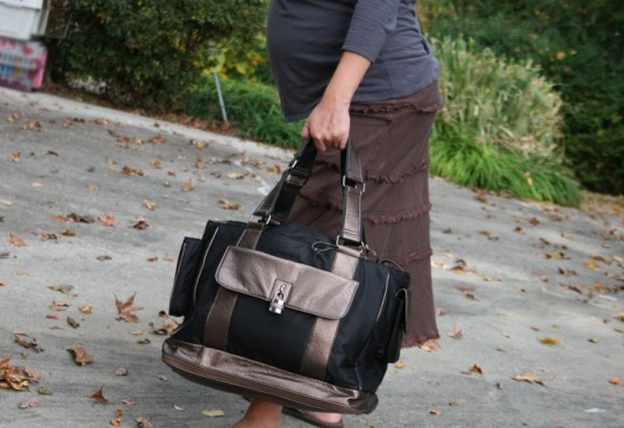 Here's what I brought and should have left at home:
Water bottles //
I was advised to try to sneak sips of water during labor since my mouth would get dry, but honestly, after an hour the ice chips would melt and turn into water anyway. Science, my friends.
Books and magazines //
With the power of technology in my hot little hands, I really didn't need these. Plus, I couldn't concentrate on anything slower than the internet due to my excitement.
Pads, underwear, and socks //
I wore my moccasins into the hospital which are kinda like slippers and therefore, didn't need socks. The nurses provided granny panties and diaper-sized pads, but honestly, they were SO comfortable that I took all the extras home.
Pajamas for mom and dad //
From what I can remember, B slept in his clothes and I stayed in my hospital gown. It was just easier.
Toothbrush, toothpaste, face wash //
The hospital provided all of this for me, but your partner may want to bring toiletries as well. B went home to shower and freshen up so we really didn't need this stuff.
Diapers and wipes //
Again, these were provided for us and we took home the extras. You only need to bring your own diapers and wipes if there's a certain brand you prefer (or if you're using
cloth
-- I'm not sure if those would be offered).
Baby blankets //
T was wrapped up in your classic
pink-and-blue stripes
which were good enough for us.
Stroller //
I was escorted out in a wheelchair with Trey strapped into his seat on my lap while Brandon pulled up the car and loaded our things. I felt like royalty and we didn't need the stroller.
*Photos found
here
and
here
.