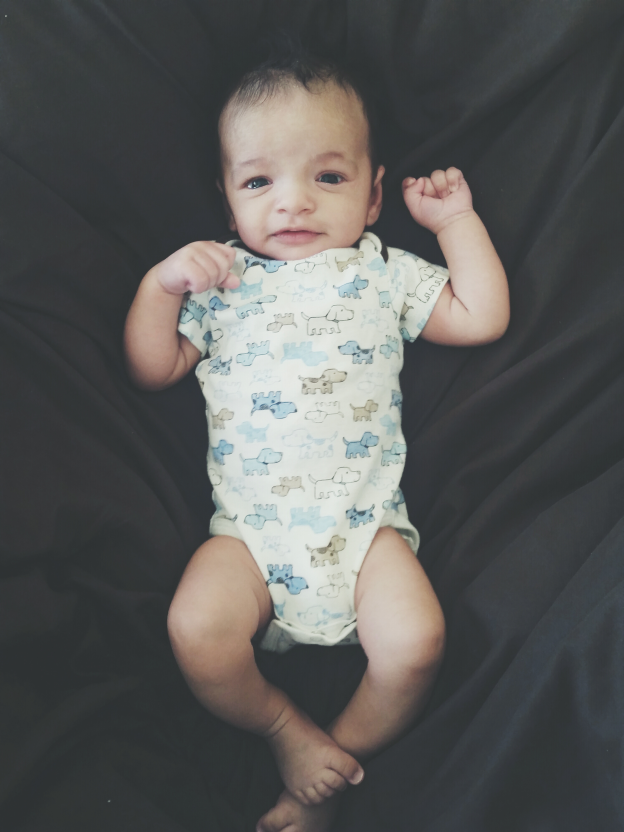 Here's what we learned and loved about our little one this past week...
+ In my
last update
, I said that he would get his last
feeding
at 11pm and not wake to eat again until 6am. I also said in
this post
that I wasn't ready to supplement with formula yet. Well, I think I jinxed everything because he started waking up more often again and having a hard time settling down before bed. However, I've started mixing a bottle consisting of half breast milk, half formula and that seems to do the trick at night. He doesn't even notice a difference and has no problem taking it. He seems more relaxed and sleeps longer. I'm knocking on wood after I finish typing this sentence though!
+ Like I said, he used to be fussy when it came time for
sleeping
but it's getting a lot better. There are good days and not-so-good days, and that's just life. I think I'm also getting used to his crying and it doesn't make me panic as much. When he was first born, it scared me and stressed me out -- I was always worried that I was doing something wrong. Now I know that he's just trying to communicate and it doesn't mean that there's an emergency situation. Even though I was told that before, I'm finally getting it. Brandon has been really helpful at night, as always. On good nights I get about 6 hours of straight sleep. I'll take it. We also received
this swing
as a gift from Brandon's grandmother and aunt which has been an absolute lifesaver! It rocks Trey right to sleep. I can't recommend it enough!
+ It's pretty much a 90% chance that T won't freak out when it comes to
diapering
now, which is quite the improvement! We are still using the same diapers and wipes most of the time. Nothing too exciting to report on the poop front.
+ Trey has started wearing 3 month
clothing
and can even fit in some 6 month but only length wise. He still isn't chubby enough to fill them in but he's very long! His
frog Halloween costume
had a little extra fluffy fabric and he looked SO adorable! If I do say so myself.
+ His
mood
has been so happy and sweet and friendly. He is having a wonderful time with his great-grandparents who are visiting!
Thanks for letting me share these little details here. If you want more useful business/blog/life stuff, head on over to
The Loudmouth Lifestyle
!
*All photos taken by me, with my phone and edited with VSCO.